Make your pastures ready for winter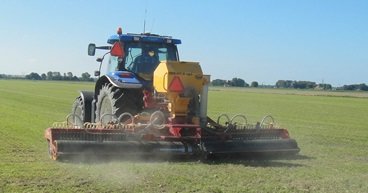 Fall is the time to prepare your pastures for winter. Just as in Denmark, we are facing an extended growing season in many parts of Europe. Right now, it is still possible to take proper actions to get fields in correct condition and in best possible shape for the onset of next growing season.
Quality measurements
On step to take, is making sure grass goes into winter in the correct length. Too short – grass is susceptible to frost and diseases and might die. Too long – risks of quality loss in the next season. Harvesting one last cut, grazing or mulching are your tools to use. Ideally, the length is seven to eight centimetre. Another point is the quality of the sward. A healthy dense sward is protective against frost damage in winter. Thanks to this year's warm fall, it is still possible to do grassland improvement by means of overseeding.
Overseeding
Repairing poor quality swards by overseeding of the existing sward, involves intensive harrowing of grass and an overseeder (i.e. Vredo or Evers). Seeding is done without any plowing or discing. Green Spirit Tetra Plus for instance, is the mixture ideally suited for this purpose. Just 8-10 kg per ha can make a big difference! The result can go up to 30% more dry matter yield of grass production next spring. Even focussing on just the bad spots already gives better results.
Now we set the stage for next year's spring cut. Temperatures which are expected for the coming weeks still allow sufficient growth after overseeding. Only don't wait any longer, since weather circumstances can change rapidly. The better condition during winter, the higher are the chances for a successful harvest next year.