Type of grass decisive for phosphate efficiency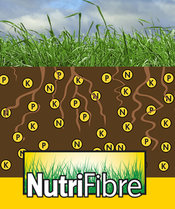 Efficient use of phosphate and nitrogen has become essential for successful farming. The right type of grass can be of great help in this respect. Grass takes up phosphate and nitrogen from the soil to enable it to grow. Some grass species do this more efficiently than others.
Soft-leaf tall fescue (GreenSpirit NutriFibre) requires 15% less phosphate than perennial ryegrass to produce one kilo of dry matter. The secret behind this is the soft-leaf tall fescue's enormous root system, enabling it to make the most of almost all the minerals contained in the soil. This deep rooting of soft-leaf tall fescue also ensures efficient use of water.
Soft-leaf tall fescue produces 35% more fodder per year. The species is moreover very rich in protein thanks to its excellent utilisation of nitrogen (96% of the nitrogen contained in the soil is converted into growth of the grass). This high protein production enables livestock farmers to cut their purchases of feed such as soybean and rapeseed meal.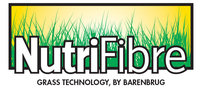 So all in all, soft-leaf tall fescue offers livestock farmers opportunities for making efficient use of nitrogen and phosphate. Soft-leaf tall fescue is available in the mixture GreenSpirit NutriFibre. Click here for more information on all the advantages of NutriFibre.