The new variety ALPHA was specially selected for higher digestibility and protein content and is an excellent alfalfa variety for the dairy farmer. Alpha maintains its excellent feeding value characteristics also at heavy cuts.
Alpha is, after Sanditi, registered in Germany in 2003 with excellent data. Alpha is also a highly appreciated variety in Austria, the Netherlands and in France. Alpha distinguishes by higher dry matter yields (rel. 102%), faster regrowth and improved feeding value (digestibility). The variety has fine stems and is rich of leaves. The crude protein content is in average 23% (rel. 101%) The winter hardiness is outstanding and the variety shows high resistance to stem eelworms and lodging.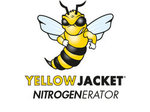 Guaranteed top yields with Yellow Jacket Nitrogenerator®
Yellow Jacket Nitrogenerator® is Barenbrug's seed enhancement technology for lucerne. Using new technology, high levels of effective Rhizobia are embedded in a protective polymer matrix. Together with a nutrient booster containing all essential minerals and trace elements, this product is designed to improve establishment and increase forage production.
Reasons to use Yellow Jacket Nitrogenerator®:
Improved establishment under difficult conditions.
Better use of available water and soil moisture.
Increased disease resistance.
Improved nitrogen fixation.
Increased forage and protein yield.
For extra information about Yellow Jacket Nitrogenerator®, click here.