Rated as No.1 on the French "Liste A"
Barenbrug proudly presents a world class variety from its successful lucerne breeding program: Artémis. This variety entered the french variety list in 2010 as the variety with the highest yield. Besides, Artémis turns out to be a very persistent crop with outstanding resistance to nematodes and diseases. Regarding early cutting and feed quality, Artémis can be compared with Sanditi.
Excellent yield
Artémis is an extremely high yielding crop, for the first cuts (100,9) as for the total yield (101,2). This is confirmed by the French recommended list, where it is stated as the best variety for yield (17,5 mton dry matter per hectare). This Barenbrug variety is very well adapted to cutting and is therefore ideal to be utilized for making hay and silage.
Powerful crop
Artémis produces a very strong crop. Because of an outstanding winter hardiness its persistency is very high (score 8,8). Due to its deep rooting system it improves the soil structure and grows very well under dry circumstances. For these reasons Artémis can be used for many years, without any problems.
As nematodes and diseases are an issue in lucerne growing, Artémis is a perfect choice because of its high resistance. At the French recommended list it is even denominated as the variety with the highest resistance to nematodes and other diseases (like Anthracnose and Verticilium)
Guaranteed top yields with Yellow Jacket Nitrogenerator
Yellow Jacket Nitrogenerator is Barenbrug's seed enhancement technology for lucerne. Using new technology, high levels of effective Rhizobia are embedded in a protective polymer matrix. Together with a nutrient booster containing all essential minerals and trace elements, this product is designed to improve establishment and increase forage production.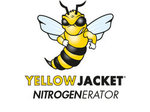 Reasons to use Yellow Jacket Nitrogenerator:
Improved establishment under difficult conditions.
Better use of available water and soil moisture.
Increased disease resistance.
Improved nitrogen fixation.
Increased forage and protein yield.
For extra information about Yellow Jacket Nitrogenerator, click here.