DERBY is a Flemish type. The dormancy class of DERBY is 4,5, making it a very good choice for use in maritime continental climates. Therefore, the variety is widely used in Europe. Farmers prize the variety for its reliability and constantly dry matter yields over the season. Derby can be used for both making hay or silage.
Derby is a perennial crop and can be harvested for three to four years. It is suitable for zero-grazing systems or for making silage or hay. Derby performs best on heavier soils. On such soils the crop can yield 12-15 tons of dry matter per year. On sandy soils the annual dry matter yields are slightly lower (10-13 ton dm /ha). On sandy soils it is necessary to inoculate the seeds prior to seeding with Rhizobium bacteria, otherwise the crop will fail. For the best performance of the lucerne it is absolutely crucial that the P2O5 and K2O content in the soil will be good.
Guaranteed top yields with Yellow Jacket Rhizobium coating
Yellow Jacket Rhizobium coating is Barenbrug's enhanced seed coating for lucerne. Using new technology, high levels of effective Rhizobia are embedded in a protective polymer matrix. Together with a nutrient booster containing all essential minerals and trace elements, this product is designed to improve establishment and increase forage production.
Reasons to use Yellow jacket:
Improved establishment under difficult conditions.
Better use of available water and soil moisture.
Increased disease resistance.
Improved nitrogen fixation.
Increased forage and protein yield.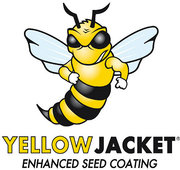 For extra information about Yellow jacket enhanced seed coatings, click here

.