Quickly replenish your protein supply
Protein forms an important component in the ration you feed your dairy cattle. Growing high protein forage is the cheapest and easiest way to boost your protein supply within 8 to 10 weeks. ProtaSprint is a 1-year mixture that offers a unique combination of Italian ryegrass, crimson clover and fodder vetch. It produces a crop with a high protein content without the input of nitrogen. You can harvest up to two cuts of ProtaSprint.
ProtaSprint is a ready-to-use mixture that makes growing high protein forage simple. The species in the mixture have been carefully harmonised and the combination has performed well in practice.
Performs well on all soil types
ProtaSprint feels at home on a wide range of soils from dry sand to heavy river clay. The vetch immediately starts rooting horizontally. This results in rapid soil cover, which offers benefits for weed suppression, especially on plots with high weed pressure.
800 kilos of dry matter more per hectare
ProtaSprint produces 11% more dry matter compared with Italian ryegrass. Based on two cuts, this provides 700 kilos more dry matter per hectare. When forage is scarce, using ProtaSprint is an excellent way to supplement your forage supplies. The table below shows the results of a 2018 research trial. Despite it being a dry year, ProtaSpirit yielded 11% more than an Italian ryegrass mixture.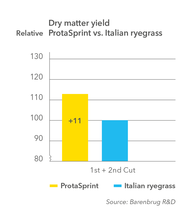 Good drought resistance
The good soil coverage of the vetch and clover, and the clover's taproots, ensure a crop with good drought resistance.
Improves soil fertility
Another benefit of ProtaSprint is its capacity to improve soil fertility. This makes it ideal as a catch crop on the field of a neighbouring arable farmer. ProtaSprint can be used as a CAP mixture and is therefore also very suitable for arable farmers.
GreenEarth label for sustainable food production
ProtaSprint makes sustainable food production a little easier. That is why ProtaSprint carries the GreenEarth label. To be eligible for this label, the product must satisfy various conditions. ProtaSprint carries the GreenEarth label for the following reasons:
ProtaSprint produces a lot of protein. This reduces the need for concentrates.
ProtaSprint does not require artificial nitrogen fertiliser thanks to the clover's ability to fix nitrogen from the air.
ProtaSprint improves soil fertility.
ProtaSprint quickly provides soil coverage. This eliminates the need for weed control.