Guaranteed top yields with Yellow Jacket Rhizobium coating
Yellow Jacket Rhizobium coating is Barenbrug's enhanced seed coating for lucerne. Using new technology, high levels of effective Rhizobia are embedded in a protective polymer matrix. Together with a nutrient booster containing all essential minerals and trace elements, this product is designed to improve establishment and increase forage production.
Reasons to use Yellow jacket:
Improved establishment under difficult conditions.
Better use of available water and soil moisture.
Increased disease resistance.
Improved nitrogen fixation.
Increased forage and protein yield.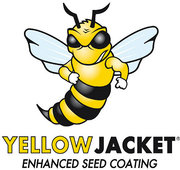 For extra information about Yellow jacket enhanced seed coatings, click here

.