VERDOR is a non-dormant variety which makes it an excellent variety for use in warm climates with very mild winters. Verdor is very winter active resulting in an early first cut and prolonged production period in the autumn.
Verdor was registered in Spain in 2002 after a testing period of 5 years. It appeared that Verdor outclassed Spain's most common ecotype variety Aragon significantly. Thanks to Verdor's outstanding persistency and excellent disease resistance (Anthracnosis) , the variety maintained a high annual production level.
Verdor is an erect growing variety with high resistance to lodging. The variety shows a nematode resistance of 29%. It also shows a high salt tolerance.
Trial results of Verdor tested in Southern France: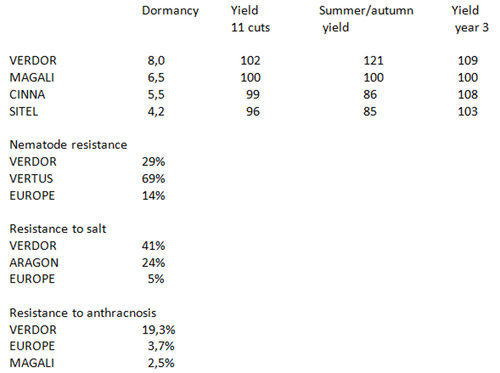 Guaranteed top yields with Yellow Jacket Nitrogenerator®

Yellow Jacket Nitrogenerator® is Barenbrug's seed enhancement technology for lucerne. Using new technology, high levels of effective Rhizobia are embedded in a protective polymer matrix. Together with a nutrient booster containing all essential minerals and trace elements, this product is designed to improve establishment and increase forage production.
Reasons to use Yellow Jacket Nitrogenerator®:
Improved establishment under difficult conditions.
Better use of available water and soil moisture.
Increased disease resistance.
Improved nitrogen fixation.
Increased forage and protein yield.
For extra information about Yellow Jacket Nitrogenerator®, click here.