L-93 XD the new generation bentgrass with extra disease tolerance. L93 XD is tough and beautiful with fine leaf texture and great colour. In order to earn its place on Jacklin's bentgrass line-up L-93 XD has undergone significant testing around the world under a wide range of conditons and management programs.

Colour
Deep green turf type.

Characteristics of the cultivar
L-93 XD is a dense, up right growing creeping bentgrass, with a fine leaf texture. The variety is best suited to greens and is adaptable to tees, approaches and fairways. L-93 XD is well adapted into the transition zone between warm and cool season areas. In spring L-93 XD is able to green up very fast.
NTEP Highlights: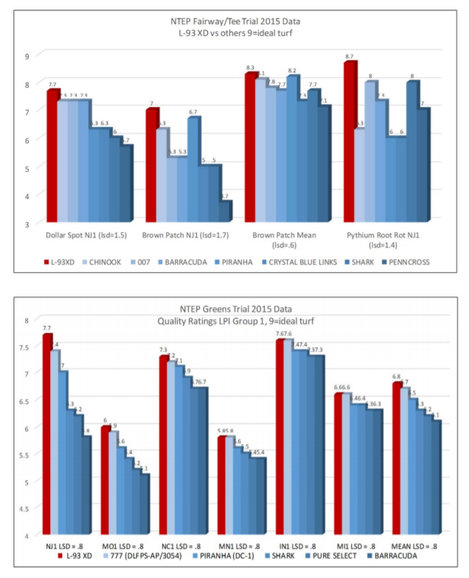 Sowing and maintenance
Seeding rates:
L-93 XD is recommended to be used in pure stands and creeping bentgrass blends. For new courses L-93 XD should be seeded at 5 - 10 gr/ m2. For overseeding a sowing rate of 2 - 5 gr/m2 should be applied. Mowing height L-93 XD requires frequent mowing and should be mowed at a low height.
Recommended mowing heights are:
Greens 2.5 - 6 mm
Tees 6 - 10 mm
Fairways 10 - 12 mm

Watering
After seeding and establishing L-93 XD prefers deep watering early in the morning.