L-93 is gracing greens, tees and fairways of top golf courses worldwide. Its reputation for being dark, dense and aggressive has given it a great reputation in creeping bentgrasses.
Why L-93?
Dense, upright growth
Fine texture
Aggressive establishment
Excellent winter hardiness
Highly adaptable to wide range of mowing heights
Rich dark green colour
Superb cool weather colour retention and spring green up

Origin
L-93 is bred by Jacklin Seeds (USA).

Colour
Medium light green turf type.

Characteristics of the cultivar
L-93 is a dense, up right growing creeping bentgrass, with a fine leaf texture. The variety is well knownbecause of its fast establishment and high capacity to withstand cold winters. L93 is a versatile bent grass exhibiting outstanding turf quality on greens, tees andfairways which is due to a rich dark green colour that is retained very well until late autumn. In spring L-93 is able to green up very fast.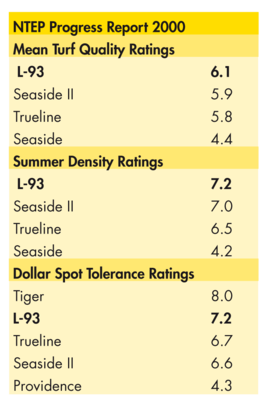 Sowing and maintenance
Seeding rates:
L-93 is recommended to be used in pure stands and creeping bentgrass blends. For new courses L-93 should be seeded at 5 - 7 gr/ m2. For overseeding a sowing rate of 2 - 5 gr/m2 should be applied. Mowing height L-93 requires frequent mowing and should be mowed at a low height.
Recommended mowing heights are:
Greens 2.5 - 6 mm
Tees 6 - 10 mm
Fairways 10 - 12 mm

Watering
After seeding and establishing L-93 prefers deep watering early in the morning.