Barcampo is the new leading variety in Germany. This intermediate tetraploid has been listed at the official list since 2013. In the official trials it outclassed all other candidates on yield, ground cover, disease resistance and winterhardiness (see table 1). Therefor Barcampo was specially awarded the "M-recommendation" for its suitability on heavy soils. This variety sets a new standard in grass breeding for the next decade.
This Barenbrug variety combines all characteristics which are necessary for a perfect pasture. It's outstanding yield ensures continuous supply of high quality forage. Barcampo's dense ground cover prevents the sward from open places and weeds, so it lasts longer. It's high resistance to diseases, like crown rust and leafspot, ensures a healthy and palatable crop. Barcampo has proven to be extremely winterhard, which makes sure the pasture remains productive also on the long term. For this reason this variety truly gives you return on investment.
Represents Barenbrug's leading tetraploids
Barcampo is the 'living proof' that Barenbrugs new generation of tetraploids knock over the common leading grass varieties. The modern tetraploids show a better winterhardiness, disease resistance and persistency. Even under intensive cutting and grazing management they survive longer than all other varieties. This makes that all modern farmers who want to be ready for the future need Barenbrugs tetraploids in their pastures. Barcampo conquers the European grasslands!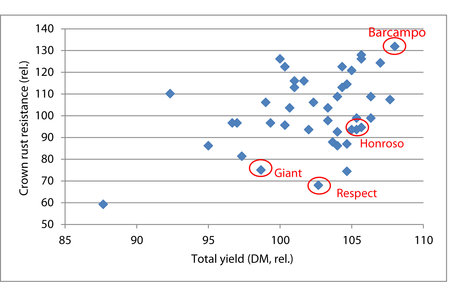 Table 1: Bundessortenamt: Ergebnisse der Wertprüfung mit Deutschem Weidelgras