The next generation of Bermudagrass
Exclusively from Barenbrug, Monaco is continuing the legacy founded by Riviera. Monaco is a superior seeded bermudagrass that is excellent for use on golf courses, sports turf, and higher quality lawns. Monaco will break dormancy quicker and more effectively while providing a high quality turfgrass stand throughout the growing season. This plant was bred to have a genetically darker green color with excellent density and wear tolerance.
Monaco is a high performing bermudagrass in terms of quality and in time. The growing season will not only be extended in the spring, but in the fall as well with its high color retention. Its durable winterhardiness will result in a bermudagrass prepared to restart the process the next spring, delivering consistent conditions year after year.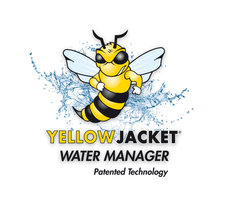 Yellow Jacket Water Manager inside!
The world's first Seed Enhancement Technology ensures precisely the right balance of moisture for both optimum germination and establishment. Yellow Jacket Water Manager was developed by Aquatrols in cooperation with Barenbrug. When it is irrigated, the substance used to enhance the seed is released into the soil, where it adheres to grains of sand, creating a Plant Survival Zone. Besides retaining water, this zone also regulates the amount of water around each seed, optimising the growing conditions to guarantee vital grass plants that will develop quickly.
Barenbrug Bluemuda®
Barenbrug Bluemuda is the grass concept that provides the most sustainable solution for the transition zone in Europe. In this zone both warm and cool season grasses are active.The combination of bermuda grass (warm season grass) with Resilient Blue® grass technology (cool season grass) offers the solution for bermuda turfgrass that is permanently green all year round.