Bar Superb shows superior performance in the field of close mowing, as is evident from research carried out by the STRI. That research also showed that Bar Superb is visually attractive and very resistant to diseases such as red thread. It also forms an excellent dense sward and is beautifully green in winter.
Bar Superb consists of 20% colonial bent grass, 50% chewings fescue and 30% slender creeping red fescue. This combination makes it resistant to close mowing, to around 4 to 5 mm. The combination works so well because it consists of varieties that came out best in the STRI's tests. So Bar Superb is extremely suitable for use on greens.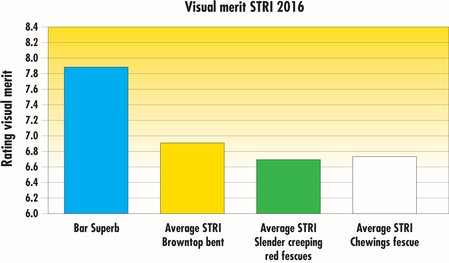 One of the requirements that any green must meet is a very dense sward. Balls roll better over a dense sward. In the case of Bar Superb such a dense sward is ensured largely by the proportion of colonial bent, which forms rhizomes that create a dense network of grass plants ensuring high ball speeds.
Greens must be mown very short to ensure high ball speeds. Ball speeds can be easily and accurately measured with the aid of a so-called Stimpmeter. Three balls are rolled from the device and their average distance is calculated. That information is then used to calculate the ball speed. The illustrated STRI diagram clearly shows that the combination of colonial bent grass and chewings and slender creeping red fescue results in higher ball speeds.
High intensity of use in summer and winter and green all year round
Thanks to the combination of colonial bent grass, slender creeping red fescue and chewings fescue, Bar Superb tolerates a high intensity of use. Many other grasses offer such tolerance only in summer, but Bar Superb can stand hard wear in winter, too. Another important aspect is a green's optical quality. Bar Superb retains its green colour in all four seasons, as can also be inferred from the STRI diagram. As you can see in the diagram, the optical quality of Bar Superb is higher than that of the individual grass species. In the other diagram showing greenness in winter Bar Superb can also be seen to score higher than its individual components.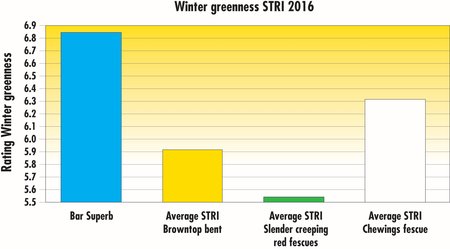 Red thread is a fungus disease that commonly affects red fescue. It can be identified by thin red strands at the tips of leaves, causing the leaves to die. Bar Superb contains varieties that were specifically developed and selected for their resistance to diseases. It is consequently resistant to various diseases. As you can see in the illustrated STRI diagram, the combination of colonial bent with slender creeping and chewings fescue is better resistant to for example red thread. So the colonial bent grass contained in Bar Superb also has good disease resistance.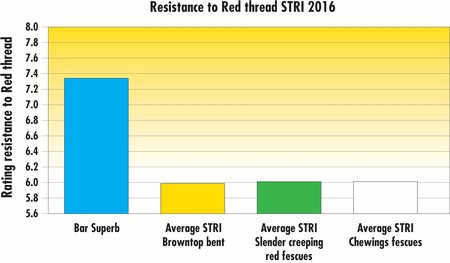 Bar Superb is suitable for use on greens, but it is also ideal for tees, having all the characteristics that are required for a tee.